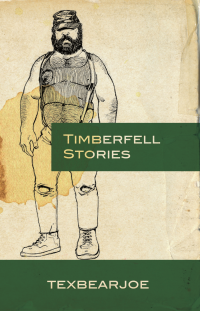 Enjoy 420 pages of the fully Timberfell Lodge experience, first time out in paperback, soon to be followed by the eBook set.
From Hot Rods to campfire stories, the "Evil Dead" to American Castles, who knew this corner of the South had so much going on, in so many directions, with so many men. This collection and recollection of stories at and around the famous campground is guaranteed to not leave any mysteries about what bears, dads, cubs, sons, bodybuilders, chunks, hunks, twinks, friends and strangers do in the woods, in the shower, by the pool, on the picnic table, at the gym, in the bar…
Check the books below for sample chapters.