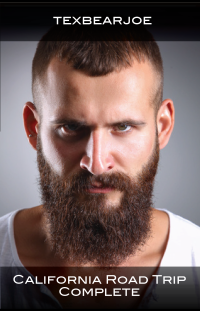 When I think of California, I think of sun-kissed (or is that sun-burned) beautiful, industrious people. LA & San Francisco, well, they are California like Amsterdam is Holland or Paris is France – they all deserve their own book from me, which will arrive later. I have more of a romantic relationship with the state as a whole.
From travel a few years back, I took a few weeks to explore California I had come to know and love through the years. From a visit in Folsom Prison to hikes in Yosemite to a private party at Hearst Castle to my Caveman at the Madonna Inn, some of the oddest, most beautiful, and most entertaining days, afternoons, and evenings I've had on a vacation. My crew of new and old friends – lumberjacks, lawyers, musicians, prison inmates, gas station attendants, masseurs, rock collectors and university deans – and Aziz is back from Muscle Ranch, meet me at naked beaches, pool parties, movie-house orgies, hiking, luxury hotels, and bargain tents. You'll never see California quite the same way again.
The eBooks will be coming out late March, I'll be publishing excerpts within the week.
Click on each book below for a sample chapter.