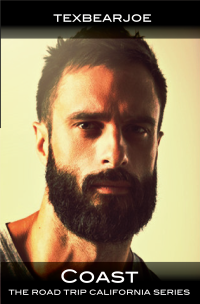 The fourth part of my California Road Trip, I continue on along the coast, enjoying the fog (not), the quiet life (not), from Castroville to Monterey – there's nothing like a beautiful massage after a hot afternoon of fucking, or is that a hot fuck after an afternoon of massage in Big Sur. Hearst Castle at night is a delight, as I cruise down further along the coast meeting more and more hot hairy men, ending up in a Swedish Village and a strange, but sexy evening with a winegrower and roommate.
Who am I? Texbearjoe. From travel a few years back, I took a few weeks to explore California I had come to know and love through the years. From a visit in Folsom Prison to hikes in Yosemite to a private party at Hearst Castle to my Caveman at the Madonna Inn, some of the oddest, most beautiful, and most entertaining days, afternoons, and evenings I've had on a vacation. My crew of new and old friends – lumberjacks, lawyers, musicians, prison inmates, gas station attendants, masseurs, rock collectors and university deans – and Aziz is back from Muscle Ranch, meet me at naked beaches, pool parties, movie-house orgies, hiking, luxury hotels, and bargain tents. You'll never see California quite the same way again.
Chapter 4
San Simeon
Today was San Simeon Day. Ahead of me I had a few hour drive south along the spectacular Pacific Coast Highway through Big Sur, then some sort of tour through Hearst Castle. This morning however, I had some work to do. I sent a message to Aziz (from Muscle Ranch – see the stories) down in LA, hoping he would be in, to talk for a bit today. I also sent a note to an old friend of mine in San Luis Obispo saying I would be driving through in a few days, and could I take him out to dinner. I called Felix, who I knew would call me anyway, and found I had woken him up! I told him I wouldn't bother him, but he told me he had woken up hard – he's evil. There was a  good wireless network in the hotel, so I put him on faceTime, and to the sounds of his grunting, I took a shower for him, then carefully dried off and put on body lotion while slowly jacking off.
I flexed my muscles carefully on camera, showing Felix all parts of my deltoids, then from the side, I flexed my traps, looking like a big animal was perched on my shoulders. Felix was whacking away on camera hard now, I heard the fwapping sounds, and he begged me to show my biceps. First, I did a side-biceps pose, flexing so the big veins popped up, then holding it to my face, licked and kissed the muscle for him. I moved in front of the camera slowly, flexing my chest and playing with my lotion-wet nipples, rubbing and squeezing the big slabs of meet, then on to my other biceps, flexing and squeezing it on-camera, then kissing and licking it, "Like I know you want Felix!"
Felix gave me the pleasure of seeing his enormous cock erupt a volcano of hot white cum, first spurting up, then oozing up and out over his hand, dribbling down for more than a minute. He played with the cum over the head, squeezing the huge shaft and pulling up, putting his flat palm on the tip of his cockhead and rotating it around, jerking from the unbearable sensation. More cum spurted, clearing out his tubes I guessed, oozing out from under his hand and sliding down the veiny shaft. I was open-mouthed watching him play the camera along the shaft, cum-coated balls, then the drips on his wooden floor, his cock now bobbing slightly as he flexed it, a tiny big more cum oozing out the tip of the bulbous shiny head. "Enough" I laughed, and took the phone off faceTime, and asked if he could get to LA next Friday.
"Absolutely" he answered. "You have to stay with me until Monday, and then you can go home. Felix was now 100 questions, and from a lawyer, but I was cagey, hinting at the fun we'd have for the weekend. "Just arrive early Saturday at LAX, and I'll take it from there." Felix sighed, and there was a pause. "Joe, I've never done anything like this." I heard a choking sound in his voice. "You're so fun, you are incredibly smart, and nice to an ugly old lawyer." I laughed, and said "Ree Ree Ree". Felix said, "Huh? What's that?" I said, "It's the sound of the world's smallest violin playing the saddest song." There was another pregnant pause, then it was Felix laughing, "Damn you! I'm going to punish you in LA!" I said "I'm counting on it big Felix. Bye for now?"
I made the final calls get my favorite hotel room on Avalon, I was worried that it would be impossible to get but it is too big for most people to rent easily. I wanted to have two beds and a spectacular view for us. I was ready to leave when Aziz sent me an excited note. I called him, and asked where he was this coming weekend. "Malibu. Papa is away, I take care of the house Joe. You are coming!" He was so excited, "Yes, but I have a friend too, Daddy Felix, you'll like him." "Yes yes, Joe, please come, the maid will make house ready for you!" – then I asked him if he had plans Saturday. "No Joe, just you and your friend now!" I told him I wanted to take us away on a surprise trip, and come back Sunday morning. "Ohh Joe! You are so good to me. I want!" So, the weekend was settled.
I put my car's top down, and clamped a GoPro camera I had brought to the windshield for the Big Sur drive south. It's really spectacular, and this time of day, sun coming up, there was no fog, no surprises, just beautiful rocks with high-contrast lighting. I did a GoSlow with my GoPro, controlling it with my iPhone, and then stopping to put in a new battery every 20 minutes, and I got gorgeous trip footage, and along the way when I stopped, I also got footage of a huge mass of Sea Otters, kind of floating along in a massive bed of kelp. Very silly playful animals, they looked very happy and protected. They didn't come out well on camera, by then the sun was a bit too high and all I saw were slithering things and squeaks. I got to see one with little rocks on its belly, banging something on then turning over and over in its paws to nibble at it.
Close to San Simeon I stopped by the Pietras Blancas lighthouse, which seemed more like a tower. I wasn't sure where the actual rotating light would be. A mile south I stopped and saw a beach full of elephant seals lolling around in the sun, it was a beautiful day for lolling on the beach. I wasn't about to get near the huge creatures though, and watched a pair of young males fight with each other for a moment. I stopped off in San Simeon for lunch, there's not much there unfortunately, and then drove up to Hearst Castle for the tour. I stopped off at a visitor center which was quieter than I expected, and aside from hunky guys managing buses for blue-haired ladies, not much going on. I was waiting in line for tickets when I heard an "Awesome muscle body man," from one of the hunky guys, and we shook hands, a couple of other guides came over and I looked at what they had done – superb bodies all of them.
"Where the hell do you live and work out here?" I asked, and they laughed, and I found that Paso Robles had a great gym – "Iron Jungle" or something like that. But, the gym was open Sunday kind of at odd hours. "Well, I don't know if it's going to work," I said, "The tours seem to end at 4, looks like it's not a workout day for me." Sean, one of the blond muscle-surf looking guys said he could get me in. "I'm working the Evening Tour," which I didn't see listed, but began around 7:30 in a few spring and fall months. I traded driving him in and back from Paso Robles and dinner for a gym visit, and we were set, he had to be back around 6pm. We had a great drive together, he was very talky, and got me up to speed quickly on club music. He had a kind of fauxhawk haircut, and the conversation drifted around how did I get so big, what juice did I do to stay so big, how he wanted to run  hotel, on and on.
At the gym we got in with no problem, I was comp'd, and dressing out there were a dozen guys there, naked, in the lockerroom. That surprised me. Young guys in gyms can really seem to be completely paranoid about being naked in public – I'm not, clearly – but here it was clothes off, talking, showers, everything naked. There is hope for the future. With my gym stuff on, I went in to work out, Brent was doing legs, I was doing Chest and Arms. Great workout, and I met a couple of Brent's buddies, and a pair of guys who looked like twins – thinking of Castroville – who took pictures with me – "That's what I want to look like at your age." As I got water and ran into Brent, he told me that some of the guys were jealous of them, "It's so hard to find a partner in a small town, man or woman."
Also an odd thing to say, but you know, times change. Brent and I showered off, and I looked at his body, just zero body fat or something, every muscle defined like it had a pencil line around it. The advantages of being young. I had a fantastic workout, and was absolutely pumped to the max – I had veins bulging on my pecs, biceps, triceps. Brent was staring, and thought I looked awesome. Back in the lockers, we cleaned up naked, and I saw that his cock was uncut, trimmed bush (he seemed to shave his body also), didn't look like it'd be a big challenge for anyone to suck, man or woman. We had a nice bodybuilder high-protein dinner and drove back to San Simeon, arriving at the visitor center. Brent disappeared off to get in costume, and I caught the bus up to the Castle. Well, it's incredibly campy, I hate to say.
I went in the cottages, and to my infinite annoyance, I had to look at a bathroom – I paid a bit of money for the tour – that was the same as the one I had for a few years in Los Angeles, at the Los Altos apartments on Wilshire. The docent rhapsodized about my faucets, for heaven's sake. Sheesh. Same Architect, Julia Morgan. From there it was downhill. I remembered the big "Neptune" pool from Spartacus, which made it seem, well, less interesting. It wouldn't have looked out of place at Caesar's Palace in Las Vegas. A sarcophagus that seemed to look very 1920's. A "Dining Refectory" which looked straight out of a movie set. And the huge "Roman Pool" which was surrounded by cheap-looking reproduction statuary, unfortunately straight out All I could think of, unfortunately, was the Star Trek episode "The Squire of Gothos", and that Hearst Castle aspired to a level of taste that wouldn't be out of place on a 60's TV show.
Towards the end of the tour, I got sidetracked by Brent, who pulled me into another over-the-top room, and asked if I wanted to swim. "Sure!" I was game. I walked across the "Castle" with him as though I knew what I was doing, and we headed towards the Roman pool, which was underneath some tennis courts. We went into what clearly was a dressing room. "How can you do this?" I asked, and Brent laughed, "Tours are over, there's only a skeleton staff." We got naked, and walked into the dark pool area, and jumped in. I was surprised, the pool was quite warm, and Brent and I swam around a little bit talking. I heard more voices, and got a tad nervous, but Brent said "It's just Steve and Luis." Sure enough two guys in their 30's appeared, naked, and walked to the pool and hopped in. Luis was lightly furry all over, short buzz-cut hair – mostly balding, and nice fuck body – didn't look like workout body, but he definitely had sexy fur, and nice soft meat.
Steve was a furry bear. I didn't get a good look at him in the dim light before he jumped in the pool. It didn't take long but another couple of people showed up – it was around 10pm now – and it was a very convivial party, chatting with each other and laughing about the seriousness of the Castle. Some of the guys worked the property, Brent was a tour guide, and some drove buses and did other services. A pair of guys kind of drifted off to one side, kissing in the water. It was quite pretty with the very dim lights on, glittering against all the gold tile in the huge room. I pulled myself up on the edge of the pool, and sat for a moment as Brent glided over. Man, that's a nice big piece of meat you got, I saw it at the gym. Luis, he's as big as you! Luis came over, and looked, grinning. Brent walked over and pulled on it a little bit, his superb body wet and reflecting in the light.
He bent over, and licked the tip, and I noticed the two guys who had drifted away, well one was getting a blowjob like I was on the side of the pool. I spread my legs for Brent, who wrapped his arms around them, and did his best. He licked and sucked my cockhead, then moved his mouth down on it, but didn't really suck, more just glided in and out over his tongue, gagging occasionally as I got near his throat. "Whew, that's a lot!" he said, pulling back a little bit. Luis's buddy Steve came over – a big bear guy, bearded, hair slicked back in a 20's style, and with his furry hand held my cock, and looked up at me, winking. He continued looking, sticking his tongue out and pulling my cock in his mouth, while Brent got up on the side of the pool beside me. Steve continued to stare at me, mouth wide open and my cock sliding in, when suddenly he closed his mouth, and thrust forward, pushing my cock entirely in his throat.
He paused there, swallowing for a second, then started a huge vacuum suck on my cock which felt great. Luis was licking Brent's cock, holding it with both hands as his tongue rolled around and around the head. A few more guys came in, and it seemed like this was all totally normal. Steve continued sucking me, his furry shoulders and chest partially out of the water as he went to town. He was a pro, I have to say. I held his head gently as he sucked and slobbered on my cock, pausing from moment to moment to squeeze the base, looking at it in the twilight of the Roman pool. A kind of thick older guy, looking like a school headmaster, walked and stood by me stroking his nice uncut cock, watching Steve suck me. "He feel good buddy?" He asked, skinning the head back and forth over the wet cockhead. "He'd feel better if I had a cock in my mouth."
Headmaster walked up to me, and pushed his thick cock in my mouth, and I began sucking on it. It was not super-hard, had a nice spongy head and he must leak a lot because there was plenty of flavor. "You look like a statue here buddy," he said, "Shit." I slurped his head in, not able to really use my hands at the angle I was at. "MMMMM!" I heard Steve say, "Nice precum." I looked down and he stuck his tongue out, and continued the deep suck. Headmaster walked forward a little bit, so I could feel his massive balls with my hand, pulling and stroking them as I got his cock entirely in my mouth, slurping on it, rolling my tongue all around inside the foreskin. That made him jump. "What!" he cried, "What was that!" I sucked his cock hard, holding it my mouth with a vacuum, then rolled my tongue under the foreskin again, feeling the edge of his cockhead.
"Aggh God!" he yelled, and as I did it again, he rewarded me with a nice couple of shots of hot watery cum. He bucked at me, then quickly pulled away when he was done, "Sorry I was so, uh, quick!" he said, and then walked away, jumping in the pool. Steve was in heaven sucking me, and asked if he could get out of the water. He was a thickset man with a very fat cock sticking out from his groin, and as I rotated around, he got on his hands and knees, sucking me as I sat and leaned back. He wanted to jack off sucking me, and how could I blame him. Brent started groaning, and I heard Luis stop with the slurping sounds, "You gonna cum big guy?" He said. Brent groaned again, and then I heard, "Careful." I heard a splash, and looking back, Brent lifted his legs out of the water, and Luis was eating his ass out, Brent's cock curved up and over his six-pack belly.
Another middle-aged guy walked over to me, stroking himself, and said, "Jesus, I wish I had that in my ass!" Brent paused and laughed, "Not 'til I've emptied him out Shane! I got him first!" and at that, he doubled down on sucking me. Shane walked up to me – beautiful cock – and kept jacking off as he got on his knees, rubbing my pumped muscles all over. He kissed my shoulder quietly, and then reached down and tried to feel the base of my cock, but Brent pushed his hand away. I leaned over to kiss him, he was a great kisser, and stopped jacking off to hug me, and rub my muscles more. "Go on, Feed the Muscle Dad" I said, and Shane quickly got up, and offered his cock to me. I slurped it in. It had a sharp angle to it, which actually made it easy to suck into my throat while he stood up, and he jumped.
"So tight!" He said, offering his cock to me again. I licked the bottom, and looked down at Steve, and said "I'm getting close, you want a load?" Brent paused, looking up at me with his wet beard, stroking his and my cocks, and said "HELL YEAH!" and began doubling down on his intense sucking. I turned back to Shane, who bent his knees slightly, feeding me his cock. He had a very dad body, clearly no gym or walking – bit of a belly, but nothing wrong overall, very comfortable body, and I reached up and patted his big ass. Shane bobbed a little bit pushing his cock into me as I sucked it, and groaned every time it popped in and out of my throat. I saw what he wanted, and opened my mouth wide, letting him begin to just fuck away at my throat, while Luis began to suck Brent again, I heard the splash of his feet back in the pool.
The room began echoing from other guys cumming, yelling out, which sounded very hot. Shane kept up his throat fucking with perfect rhythm, and I reached up finally to massage his asshole and balls to help him along. He jerked as I touched his hole, hissing slightly to my ears, but I realized he was saying "Yessss", so I pushed a finger in, and he yelled out, "NYAAA", and held my head while he blasted a load of cum straight in my belly, curved cock pushed all the way in my mouth. I pulled on his balls, and felt a pressure in my cock grow with the excitement, and suddenly Brent was gagging and gulping as my own orgasm was triggered into him. He was literally squealing and whining like a pig, and I could tell from his jerks he was cumming too. Shane gasped finally, and pulled his cock out of my throat, but I stopped him, so I could suck the last bit of cum out.
He laughed, and pulled back more, then walked a little bit away and jumped in the pool with Headmaster, who was chatting with the two guys who had shot earlier. I looked at Brent, who was sitting in front of me, on hands and knees, head down, panting slightly. He rolled around and got up, his thick cock still hard, and I pulled him over to lick the tip, and get a taste of his bitter spunk. Brent was moaning again, and I walked behind him, and carefully got down on the wet tiles, legs on either side of his, and wrapped my arms around his muscular chest, and squeezed, rubbing my beard into his neck. That kind of did it, and he shook in my arms, "FFfuck man!" he said, and then Luis gulped. Brent bucked a little bit, and Luis pulled away, stroking Brent's cock as a healthy stream of cum shot up and out, into the pool.
He must have shot 10 – 12 times! His balls were full. Luis grinned as Brent slowly came to, and said "Oh man! We have to clean the pool again!" Luis laughed, as the rest of the men did, Headmaster saying "It'll filter out." I squeezed Brent again, nibbling his hear, and told him "Thanks for bringing me here." He turned, and said "I knew I'd see you here tonight Daddy, the first time I saw you." At that he gave me a big affectionate kiss, and a few of the guys in the pool clapped. We sat there another quarter hour or so, talking with the guys who gradually got it together, but the one things seemed to be that we had to leave as a group. Brent and I got dry and got our clothes on, and we all walked out to an Employee bus, and started the long drive down the hill, 'til we got through a sort of gate guard, "Nice swim?" he asked, laughing. "Luis, you didn't shoot?" I asked, and he grinned at me.
Brent wanted to know where I was going to stay as I got off the bus, and told him I saw a motel down in San Simeon a mile down the road, and I asked, "Like to come?" Brent looked at Luis, and said "I can't, but I know Luis is crazy about you man," Luis punched Brent in the shoulders, and look shy all of a sudden. "Luis, wanna come? I'm cool, and you're hot." Luis laughed, and came over, shyly kissing me. He had a thick sweet tongue that I sucked on for a moment, feeling his firm body. I thanked Brent, and gave him a big hug, and then Luis followed me in his car down to San Simeon, and then checking into what seemed like once it was a cheap model, he followed me on in. Basic motel, king bed, window and air conditioner, TV, sink on one side with a door into a toilet and shower. "Not the Ventana" I thought to myself, grinning.
Luis was slightly nervous, but I got him in bed and turned on the TV, talking with him. It seemed odd after he gave Brent that slurpy blowjob, but I realized after a moment that he wanted desperately to kiss and feel me. I got him to take my shirt and pants off, then crawl up on me where he turned into a kiss fiend, all over, moaning and feeling my muscles – he was so affectionate suddenly. He took off his shirt and pants too, and while slender, he had a man's body – lean muscles, nice furry chest and belly, and a nice schlong in his shorts. We kissed and necked for a while longer in bed, then he peeled my underwear off, and said "Papiiiiii", and licked my cock. Instantly he sucked my cockhead in his mouth, and with his big fat tongue, worked on it giving me a huge boner. He was a great cocksucker, and working with his fingers and mouth, my cock felt like every square inch of it had something wet and hot rubbing against it.
"Luis, Luis," I said, and lifted him up above me, off my cock, and pulling him up – he had to weigh maybe 160lbs. I held him up with one hand, and pushed my other in his shorts, and pulled them down peeling them off completely. His cock bounced out, a nice thick uncut one, huge balls. I lowered Luis back down into my arms, squeezing and kissing him more, and he just pounced on me, Papi this and Papi that. I realized that the motel room was made for sex. The TV was on a credenza on the wall opposite the bed, on the left side. In the center was a huge mirror, and as I moved to the middle of the bed from the right side, I was right in the mirror, Luis's body looking furry on top of me, in my arms. I had to look, and reached around Luis's bubble butt, and spread his cheeks wide, a pink hole winking at me as he sighed.
I moved him around parallel to the mirror, and facing his ass, licked his beautiful hole feeling his light ass fur on my face. Luis bent down, shoulders to the bed, and spread his legs a little, giving me full ass access. I started playing with his cock as I sucked his hole, realizing that his cock was pretty limber. I pulled it down, and was able to suck his cockhead from behind, alternating his cock and his asshole, delicious! Luis groaned and arched his ass higher in the air, giving me even more access to his cock, and I eventually worked a thumb in his hairy hole as I kept sucking his cock from behind, and got at an angle where I could jack myself off too. I paused, and glanced at the mirror looking at the scene of my face in his ass, getting myself hotter. I let his cock go, and put two thumbs in his ass, spreading the hole open and spitting in it, working the juice around with my thumbs between the sensitive lips.
Luis was just a perfect bottom, arching and moaning, begging for more the wider I stretched his hole and worked it open. I couldn't wait any longer, so adjusting myself, I positioned my cock to slide into his hole. First the head pushed in the spit-wet lips, and we both groaned together, and I saw my huge body straight-up, my cock out and Luis's asshole touching it in the mirror, but the mirror seemed so far away. I pushed forward, feeling his light furred back, then with my hands on his shoulders, pushed his ass bubble butt against my cock. I watched in the mirror as this great big hunched-over tan bodybuilder fucked into the light brown furry ass, and then back down as my pink cock disappeared into his hole. Luis's hole squeezed, then relaxed, and I said out loud "Luis, I like them loose, keep it loose for Papi".
Luis nodded, and I felt his hole become completely relaxed, and sliding in it now was like gliding over wet hot rubbery silk. I got halfway in, and looked at the veiny shaft perched just at the edge of his brownish hole, then I pushed and punched into his gut. Luis gasped again, and I felt an almost painful squeezing on the tip of my cock as I held his inner hole open. I pulled back very slowly, looking at Luis's fur stream over my cockshaft, then in rapidly, out again slowly, then looked over again in the mirror, watching the huge roid-bloated bodybuilder fucking the younger man. I slammed into him, and pulled out rapidly now, sawing back and forth watching him take all the fucking, grabbing the sheets of the bed in his wrists as he arched his back even higher against me. It was a fantastic fuck, the hot sliding of my shaft, then with the pop of my head into his guts over and over again.
I pulled out and grabbing Luis's ankles, pulled him around off the bed, and made him stand in front of the mirror, looking at himself with me behind him. I kicked his legs apart so he was just the right height, and pushing him down further, I punched his gut again with my cock, continuing the hot fuck. Luis was so sexy, lusty anguish on his face from the fuck pounding he was getting, and he stared right into my eyes, his beautiful brown-black pools looking so handsome. I glanced at myself, almost unrecognizable – my hands on his ass, slamming him over and over on my cock, my lats spread from the effort looking obscenely wide and almost raging. I kicked at a drawer on the cabinet, and go it open, then turned slightly, putting a leg up, and was able to see more of my shaft sliding in his hole in the mirror as I took in the whole scene.
Fuck I wanted to cum and fill his ass to the brim at that second, slamming harder and harder into him, then suck every drop back out while I jack-hammered his cock and huge balls empty. I was surprising myself with my lust at that moment, and pulling back on him abruptly, fell back on the bed. I looked around, watching his huge cock bounce up and down as I lifted his ass up and down on my cock, until Luis got with the fucking program and put his hands on the bed, and fucked himself on my cock as I rested, hands behind my head. He was going crazy, rotating his hips and bouncing hard as he could to get all that hot Papicock that he could at that moment. He caught his breath for a second, then leaning further back began hammering his hips down as fast as he could, and began a high-pitched whine that turned into a scream, when I saw his thick cock shoot a huge jet of sperm across the bed on the floor, landing wetly, then another as he shot hands free.
It was magnificent, and I helped him out by hammering my hips up into his hole. He shot a half-dozen jets of cum, then slowed to a drizzle, then I grabbed him, arms wrapped around his upper body, and kissing his neck, pulled him off my cock. Luis jerked as I pulled out of his hole, then moved him around to face me in my arms, growling and showing him with kisses. "Papi, I came without, I came just like that!" He exclaimed, excited. "I don't know, I couldn't control!" We rolled back up in the bed, Luis squeezed hugged against me, and we necked for a half hour again, Luis slowly feeling all of my body as before. I kept my eyes away from the mirror, it was such a strange feeling watching myself for some reason that night. We fell asleep with the TV on, and I woke to Luis bending over my cock licking it.
I patted his head, and pushed him down on my cock, realizing my balls were sore – I needed to cum. "Luis," I said, "Sit on Papa's fuck." Luis scrambled and facing me this time, crouched, drawing my cock into his hole. He was too dry, so I got my sex box, and lubed up my cock, putting a bottle of poppers beside me. Luis climbed back on my hard cock, squatting down, then he moved back, walking his hands backwards until he was facing up, ass directly over my cock, his own cock pointing up. He began raising and lowering his ass on my cock, and I was drawn back to the mirror, watching his cock roll around in a circle as he worked his ass as hard as he could on my cock. I began raising my hips to meet his ass, when I felt him grind down hard, and popped back into his gut, through that tight hole. That did something funny to Luis. He stared moving his hips around, grunting, then slamming back down as hard as he could on my cock.
I slammed up to compliment him, and for a quarter hour, we were fucking loud enough to make smacking sounds you could have heard out at the ocean, his entire body vibrating from the intensity of each "Bang!" The bed started squeaking, adding to the chorus, and Luis began grunting as I watched his cock and balls slap up and down over and over against my belly. I saw the brown bottle, and pausing with fucking for a moment, told Luis to sit up. He did so, my cock buried to his diaphragm practically now, and I took a few sniffs of poppers, and fed him a couple. "What is this Papi" he asked, then his eyes got huge as the poppers hit him. "Fuck on Daddy, Son," I bellowed and Luis immediately lay back again, whimpering and whining as he struggled to fuck as much cock into himself as he could.
The bed was squeaking again, and both of us were crying out, waves of fuck pressure going through my groin, and then Luis did it, his big floppy cock started shooting cum again waving all over the fucking place as his balls got slammed with each thrust I made. I yelled out for more cum, and tastes some that flipped at my face and mouth. I was bouncing off the bed with my feet now, pile-driving into his hole when banging started on the wall next to us. I loved it! The banged harder and I yelled out, shooting my cum into Luis like a fire hydrant uncapped, and we both continued bellowing and crying out at the intense fucking and cumming. The door to the room banged now, but I didn't give a shit, I kept on fucking, but more quietly, until my soft cock fell out of Luis, and we collapsed on the bed. I got up, and walked over to the door, defiantly opening it to see a middle-aged angry man there, who stared at my cumdripping cock.
"For God's sake, can you keep it down?" He asked, and coolly, I said, "I'm not here to make you happy, I'm here to make him happy," and slammed the door in his face. Luis looked at me with wide eyes as I jumped back in bed, tackling and kissing him, and reach down to slurp on his cummy wet cock getting the last drops out. I was definitely quieting down now, having cum, and eventually Luis and I fell asleep with heads on each other's thighs. I woke up to thin light, and the wall thumping – the guy who had banged on the door last night was having a hot fuck of his own this morning, complete with yelling "Fuck me", and loud wails and groaning. I pulled Luis up on my chest, and grabbed his morning hardon, sucking it down my mouth. He really was limber as his cock slid into my throat at an angle, and Luis gasped. I was jacking off now like crazy, the bed shaking from the banging next door, and I looked at Luis.
"Fuck my throat!" I yelled. At that, he took hold of the headboard and started pushing his cock in and out of my mouth and throat. A moment later, the bed started squeaking again, and Luis shuddered. "Papi, I come so soon in your throat!" he begged, "Please, I rest." But I would have none of it, and jacking off hard, Luis now fucking and crying out, I took him for a final time deep in my throat, and started shooting my morning load up on Luis's back as he yelled out "PAPI!" and with a thumpity-thump from the bedboard fucked my throat, shooting his own thick load, "AAAAOUGH!" echoing through probably the parking lot and back up to Hearst Castle. I had a hard time swallowing it, with his cock partially in my throat, and as he pulled out, I felt half my face was covered with sperm. The wailing next door was over, and I hear voices talking as I cuddled again with Luis. It was time for breakfast, and on to meet my old friend in San Luis Obispo.