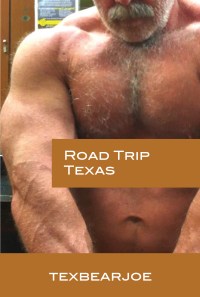 Enjoy 570 pages of the Road Trip Texas experience, first time out in paperback, along with eBook editions.
Nothing more American than a road trip, and this one takes texbearjoe on a giant vacation through the great state of Texas – meeting lonely ranchers, park rangers, trailer daddies, border guards, and in the southern beaches an unexpected reunion with muscle bear Sami from City View, DC. When you're as friendly as texbearjoe, a lot of things come naturally, especially men of all ages, sizes, shapes, and colors. Everything really is bigger in Texas, in more ways than you expect!
Check out the volumes, and a sample from each below.