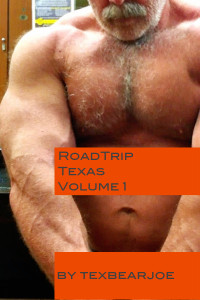 More about this book.
I was exhilarated and slightly numb from the gym AND wrestling I had in Port Arthur, and content to tune my radio to Sirius XM 70's music and glide along the 10 Freeway which stretches from Florida to California. It was late afternoon in East Texas, so of course it poured rain for a half hour at some point, but I was determined to make it to a wonderful ranch up north of Houston, and have a five-star dinner; I called ahead, but being summer, it was absolutely no problem to get a seating, not a lot of people want to wander around in 90-degree evening weather. I was sore! Wrestling isn't bodybuilding, and I had muscles hurting I didn't even know I had. I had been to the ranch resort a few years back for a business dinner, and the head of the dining wing of the place was a very sexy bear, and we stared at each other like crazy, but I was not in the situation where anything could happen.
I ended up arriving kind of at sunset, passed by farmer pickups and truckers as I pulled off the main road, which was beautiful in the Hill Country of Texas, and buzzed myself in at the gate with my reservation. This was a 300-acre ranch that had been turned into a series of bungalows, and the main "Hacienda" was an amazing restaurant. I wanted to splurge, and believe me – this place was not free. I'll call it "Rincon del Rio" but if you look for luxury resorts near Chappel Hill you can find the real place. I pulled up to the main place in my poor washed and re-dusted Mini Roadster. It was black, it was now dusty grey. I eased myself out of the car, and actually heard my bones creak. A golf cart guy whisked me to my bungalow, which is so plush the pillows have pillows. Ahh! I got it together to go back to the restaurant for dinner, and being mid-week, not to my surprise I was one of only three tables there, the others were romantic couples.
This place has a helipad for people coming in from Austin or Houston, I kid you not. In walked "Barry". My height, thinning black hair, big kind of metro bear beard, huge thick hands – a big turn-on for me, and chunky. The perfect bear. I wondered what the hell he was doing in the middle of nowhere, but in any case Barry practically levitated over to me, and fussed over my entire dinner that evening even though he wasn't the waiter. His jaw dropped when I told him I was staying the evening – I was the only one. Interesting. As tired as I was, I got a hardon sitting there thinking about how hairy his ass must be, and unfortunately, after three glasses of wine and a glass of port with the cheese course, I told him that I was sitting there with a hardon thinking about how hairy his ass must be. He looked alarmed, and laughed it off, and I went into a mental tailspin.
I finished my coffee slowly, and my waiter kind of disappeared – the other couples having gone – and Barry came back, smiling. I apologized, and he leaned over, I could smell his beard, his breath, and faint male body, and he whispered that he had to go back in the back, and adjust his pants because he got such a boner. I was electrified by the extremely faint feel of his lips and beard on my ear; I literally had a wave wash over me of "uhh ooh." I could smell his faint sexy body smell a moment after he darted off again, and he invited me to the terrace for a drink on the house. I walked out – there is a small infinity pool, and looking off into the distance over a forest. The magic thing there is that there are no lights, and you can see the Milk Way easily overhead. He brought out a snifter with Cointreau, and he seemed to have Amaretto, and sat with me as we chatted.
I told him he was one of the handsomest men I'd seen, and I kind of by intentional accident wanted to end up here while I was on a road trip vacation. He loosened his tie, and took off his jacket, and in the heat, I smelled more of his gentle smell, mixing with the orange of my drink, and I felt annoyingly sleepy. "We are the only ones here," he said, and leaning over, got closer and closer. My heart was in my mouth, what a perfect moment, and he kissed me. I melted, feeling his tongue flicker over my lips, his beard pressed against me, and I probed his mouth gently. A bitter trace of Amaretto I could taste, and something – coffee? And an instant later he scooted his noisy wrought-iron chair up to mine, and put his arms around me as I kind of leaned back into him. Barry's smell, the warm night, a fantastic dinner, sweet alcohols, and kissing, I thought I had died and gone to heaven.
He worked his mouth across my cheek, back towards my ear, which he gobbled. My ear entirely in his mouth, more and more waves of shaking went over me, unbearable as his tongue probed every crevice and nook, sucking on my entire ear with his big mouth, until I had to grunt, "please". Barry then headed towards my neck, his stiff big beard scratching over my skin, until I felt teeth on the back of my neck – soft, gentle, hair-raising. I couldn't help it. My hand moved, completely by itself, feeling his thick legs. I wanted to grab his cock, fill my hands with sensation while my neck, ears, neck and face were eaten, but I couldn't twist my arm back with him to a side behind me. I think he sensed what I wanted, since he scooted his chair forward, then took my hand and slid it towards his crotch until I bumped against his cock. It was rubbery and hard in his pants, down his leg. I shivered slightly, in the 90-degree heat, shocked a little frankly, I didn't expect him to be so thick.
Barry whispered, "I have to warn you, I'm a top. You ok with that Joe? I know you want my ass." I responded, "I don't have a script that I follow Barry," feeling him bite my neck again, forcing me to gasp. "You, uh, know what you want." He reached around me, still in his suit jacket, and fondled my thick chest. "I'm happy to please." "You're a banquet," Barry responded, kneading me and back to sucking and chewing on my ear. If you can imagine it, we both sat there for almost an hour necking, kissing and sipping alcohol, Barry lifting my shirt finally to caress and knead my nipples and chest, gently holding my traps in his mouth, rubbing his mouth and beard against my shoulders. "Barry, I'm sorry, but my balls hurt. Would you like to go back to my room?" Boy, what a romantic.
He whispered in my ear again barely touching, making me tingle, "I thought…" "You'd never ask," I finished, laughing. All the lights were off in the Hacienda, and the moon was incredibly bright, though down a few notches from when I was out at night in Paris Texas. Barry disappeared for a moment, and came back breathless, in a regular shirt and khaki trousers, a quick change artist. I could see him better – he was very furry, curls spilling out of the neck of his shirt front and back. He had wide hips, and a big ass which I love, I could see myself going crazy over his big midsection. He put his big paw on my shoulder, and steered me to the golf cart and we zoomed off to the bungalow. We went in, and I was about to turn the light on when he said, "No, not yet!" and I realized the moonlight was quite bright here with the air so clear. He pulled me back to the small porch in front of the bungalow and proceeded to undress me.

First, off with my shirt, and he then wrapped himself around me, kissing intensely again, losing me in his mouth and beard. He kneaded my back, a sort-of-massage, feeling all my muscles. "Jesus, you have muscles on top of muscles." He squeezed me harder, then turn, and sat me on an outdoor couch. Kneeling, took my boots off, then socks, and flipped me out by licking and sucking on my toes and feet – the sensation was so intense when I was turned on like I was, it was as bad as his eating my ear. Sucking each toe, he scraped his beard and teeth on the soles of my feet, and it was all I could do to not jump up on the couch. Leaning forward, he undid my belt, and slowly, ever so slowly, slid my pants off. I felt like a giant toy for him, and he probed and squeezed my quads, hams, and calves, groaning over how big my calves were in particular. He rubbed his beard against my inner thigh, kissing, making me write and groan on the couch.
Taking the sides of my underwear, he tricked me. He pulled the underwear down, but in the back. My ass was exposed, not my cock and lifting my legs, he licked a finger and started to probe. This startled me, and I told him I had to clean up – "Don't worry. I'm grown up Joe. Nothing's a problem." And so I relaxed, and he licked and rolled his finger around my hole, touching all sorts of sensitive spots as he continued to scratch my legs with his beard. Licking finger, probing, squeezing and massaging me, pulling my ass over the edge of the couch finally so he could lick my hole as he squeezed my chest and biceps. Long swipes of his tongue, then pursing his lips, sucked on my hole driving amazing sensations through me, then the ultimate. He bent my legs, and put my big toes in his mouth, causing me to shake from the sensation, then putting his hands together, slid both his forefingers in my asshole, probing as I relaxed and cried out, my entire body on electric fire.
I thought I was good at sex, but I felt completely inadequate to him, loving him taking over everything, taking charge. "Your body is so beautiful," he whispered, his dark eyes looking at me intently, "You are quite furry too, so light, like a pelt." He slowly pulled my underwear back up, and I was practically panting for more sex, when I scooted back, and said, "I get to undress you now!" he smiled, "I'm, uh," he said, smiling at me. "I can't compete with you." I didn't understand what he was saying, so I responded, "You don't want to get naked?" He pushed me back on the couch, massaging me again, and I pulled at his shirt. I could feel his fur under my hands through the shirt, and I shivered, and pulled more insistently. His shirt popped out of his pants, and I pulled it up as he gave in, and he took my breath away. Just perfect black fur all over, nice thick body, a real bear.

He had a bit of a big belly which he put his hands over shyly, but I took his wrists, and squeezed them to tell him to give in, and pulling his hands to his side, buried my face in his furry belly, kissing it and rubbing my beard in it. He put his hands on my head, sighing – a happy sigh, and I wrapped my arms around his furry thick body exactly as I had imagined it earlier. Leaning back, I said "You're so perfect!" He looked surprised for a second, then watching him, and winking, I undid his belt, and quickly slid his pants down over his thick meaty legs. Fuck! He did have a big hard ass, wide hips, and his cock seemed to be curled up somehow in his underwear. My hand were literally shaking as I rubbed his cock, and he said "Whoa there! I'm getting too excited!" I moved my hands up back to his fur, and squeezing his belly, kissed and nibbled on it, which he gave a slight "Oh!" to, and hugged my head again.

While he had in a perfectly orchestrated way undressed me, I left him standing there, too-tight underwear, shoes and socks on, pants down around his feet. Smooth, Joe. I got on my knees, and lifting each foot up took off his shoes and socks then pulled his pants off. Just superb, a perfect big furry bear in the moonlight with me. "Joe, I'm sorry I'm so fat." He held his big midsection, and shook it, and his thick fur-covered tits, sighing, but I said, "Barry, you're perfect! I love big thick men. And your ass…" I squeezed it through his underwear; "I want to bury my face in it." "You're the only one Joe!" Barry sighed, and I stood to kiss him, my hands running through his deep fur and voluptuous body. Then I touched his cock through his underwear. It felt literally like he had a part of a vacuum cleaner hose in it. "I'm too big for most guys, Joe" Barry apologizing again, "I like my ass played with but I'm really just a top."
I answered, "Barry, your belly's too big and hairy, your ass is too big and hairy, and your cock is too big and hairy, and you're handsome, so everything is fucking perfect I like too big too hairy too hung, too handsome. I don't even know how to tell you how excited I am!" and I was. I was literally trembling to touch him all over, and Barry sensed that, holding my hands in his big paws and kissing me, then literally wrapping his arms around me, "Oh, I love turning you on!" I sat back down on the couch, and began to pull his saggy underwear off. He grimaced a bit as I pulled the band down, his cock seemed to kink slightly, so I pulled it out letting his cock swing free inside, then slowly pulled it down around. I don't know how long it was – I was in shock really. I cupped his huge balls – I don't see how he could walk around with his chubby thighs and balls like goose-eggs – and when I did so, his cock sort of fell down against my arm up past my elbow, and I shivered again.
"I'm sorry Joe, I'm not cut either." His thick head had a veiny wrapper around it, showing only the tip of a wet deep-slit shiny head. I literally didn't know what to do for a second, so I stood up and pulled my underwear off standing by him massaging his thick body. My cock isn't small, but it was maybe only 2/3 as long as his, not as thick. I felt like, well, if he was a top, I was going to be practically fisted if he was going to fuck me. Thank god he was taking the evening slowly, because this was going to take time. I kissed him, an arm around his waist, and holding his cock up to one side to press close to him, I lost it. I was kissing deeply, and holding his thick rubbery cock in my hand, feeling the sheer massive weight of it in my hand, I got too excited. As he kissed me, I felt his cock pulsing, and suddenly, like a bolt of electricity; I shook slightly and grunted, shooting cum all over his hairy legs.
"Ooooh Joe, my god, I can't believe I turn you on like that!" he said, squeezing me even more tightly. I shook more, my hips involuntarily bucking against him as I gasped, and practically fell into his arms, surprised. "Barry, uh, I'm sorry, let's keep going!" I begged, as he laughed, and squeezed me again, his cock now steel hard against me. I think cumming relaxed me though, as Barry pushed me to sit on the couch again, in the darkness, just the stars silhouetting him as I watched what looked like a real bear in front of me, huge cock swinging out. Barry lifted my legs as he had earlier, and began rimming me again, this time stroking my hole with his fat fingers, pushing the tip into my anal canal, seeing how it responded, and stroking my muscles to relax me further. Sighing, he watched my body shiver and flex in the moonlight, as he continued to push a thick finger further into my asshole, twisting it.
"Hold on," he said, and ran into the bungalow, then back out with a basket – all sorts of stuff for sex for men and women, and a very large bottle of lubricant. He squirted it all over his hands and began massaging my asshole, legs high up in the air, and slid a thick finger again into my hole. I was so turned on at this point, getting ready to fuck on the couch outdoors, the hair was raising up on my arms and the back of my head with every touch. My cock was rock hard again, waving around, and each touch on my anus was electric. He pushed one thick finger in completely, stroking my prostate gently as the last dribs of cum dripped from my cock, pushed by some more precum. He twisted and stroked his finger deep into my ass, and then I felt a second finger pushed against my hole. It took all of my concentration to push and open my ass, until he was sliding two fingers freely in and out without any discomfort.
Leaning forward, he continued to finger-fuck and massage my ass as his thick chubby furry body draped over me and he wrapped an arm around me to begin kissing again. I felt his huge cock pressed against my ass, just "there", and shivered again, and I hoped to hell I could really take his cock, and get him to really relax about his big body and enjoy being with someone completely. Kissing, my mouth peppered with small kisses, then his thick tongue pushing back in my mouth, overwhelming me, he was an expert. I felt a tiny tweak of pain, and realized he had pushed a third finger into my asshole, and he stopped to spit in his hand to get the lube re-wetted. "Barry, in my leather bathroom bag, there's a big bottle of lube that doesn't dry. And some poppers. I'll need them." I said. Barry smiled, and heaving himself up, ran in and out in a moment, black bag with him, and a huge blanket. It was at least 85, so I wasn't sure what that was for.
He was lubing up his hands again. "Much better, and not sticky!" he said, draping himself back over me. He walked out to the meadow in front of the bungalow, and threw the blanket over the prairie grasses. He nodded to me to come over there, and I did, my big huge fat bear standing waiting to eat me it looked like. A nighttime picnic and I was the meal. Barry expertly put me on all fours, pushing my shoulders to rest against the soft blanket, ass up in the air, and he began finger-fucking me again as I felt a dry breeze over me, listening to the intense chorus of insects, birds, and frogs from a nearby pond that filled the night. I felt a hard push, and Barry was now sliding four thick fingers freely in my ass – it took some getting used to. "Let's let that hole rest Joe," Barry began, "turn over." I lay on the blanket on my back, and Barry walked around and over my face, said, "I know you want this."
He squatted down, massive furry ass descending over my mouth. His cheeks were huge, and covered my face completely, mouth touching his hairy hole, and I couldn't breathe – my face was literally encased in his furry ass. I licked and sucked his hole as he had mine, pushing my tongue up in it, drooling, rolling around lazily then I felt it. He was flexing his cock, huge balls resting on my throat. With each bounce of his cock up and down against my chest, his asshole flexed on my tongue and mouth – erotic and scary at the same time, the heavy weight of his meat slapping me hard. I had to breathe! I pushed his ass up and gasped for a second, then Barry put his hands on my chest, groaning as he kneaded my thick pecs, and bounced his furry fat ass gently up and down on my mouth, tantalizing me with facefuls of balls, ass, and asshole.
His cock was sliding along my throat and chest, and he began squeezing my chest together to fuck against it while he fed me his furry ass. I wanted to jack off, but knew I would cum from being so overwhelmed, and Barry slid his greasy hands forward over my body, massaging all my muscles, lost in his own Hercules. He lifted his hips high, arching, poised with his cock right over my mouth. He would literally have killed me if he shoved it in my mouth, I reached up and sucked the tip, then grasping the shaft with two hands pulled him towards my mouth, and opening wide, I could only get the head in – it completely filled my mouth. Barry very gently arched his back, fucking the head in and out of my mouth, and as one of his huge hands wrapped around my cock, I thought I would cum again. Barry was truly a fat furry dream bear, and as he squeezed my shaft, I felt him lower his belly onto my chin and chest, burying me in his huge furry body.
"You want fat, you got fat," Barry said, indulging me, and I realized I had to breathe again – his cock had pressed to my throat, not going in, but blocking off my ability to breathe. Barry rolled off me as I pushed gently, and then took the bottle of lube and pouring it down over the tip of his cock, let it flow, soaking the shaft, his pubes, and balls, so as he took it all with both hands his entire package was a wet hairy huge and potent fucking machine aimed at me. "Joe," he whispered, "get your ass in the air again." I turned over, chest on the blanket, and grabbed at my bag to get poppers. He slid four greasy fingers easily in and out of my asshole, twisting and playing with it and I was able to hold it open even when he pulled out. Barry stood up, and squatted slightly, and turning my head I watched him aim his grotesque cock at me. The tip touched my asshole as he held his belly up, and he squatted a little more pushing it in.
Four fingers had helped, but guys, his head was huge. He stretched me open, and as the pain hit me, I gasped, and felt a pop as he got the entire head beyond the anal muscle, into my rectum. I took a hit of poppers, breathing rapidly in and out, waiting for my body to accommodate. Slowly, slowly it did, and I was wrapped up in the feeling of outdoors, the noisy night animals, and my ass being stretched unmercifully. "Joe, Joe," Barry cooed, squeezing my muscle ass, and stroking my back, "You have muscles on muscles, really." Barry pushed forward again, and I groaned, realizing that he was already at the opening to my large colon – the sigmoidal sphincter. He pushed in again, very, very slowly now, a dull pain beginning in my groin that slowly peaked, and I yelled out a violent "FUCK" as he popped into my colon. I thought I would collapse, but Barry was holding me as the conflicting sensations of unbelievable pleasure and numbing pain hit at the same time.
Fuck Fuck Fuck. I held still, and took another double hit of poppers, and as the wave of rush worked over me, the pain subsided. "Joe, relaxing, you're relaxing Joe" Barry whispered, barely audible over the katydids and frogs in the night. Barry pushed forwards more, tiny fractions at a time, until my prostate was crushed and my asshole to my deepest guts were stretched open by a baseball-bat sized cock. Barry then lowered his belly on my ass, and I felt more and more enveloped by him as I was penetrated. "Stay still." Barry whispered, stroking my back, and squeezing my "Huge shoulders." I was delirious, not just from the poppers, but from the whole setup – fat furry bear on top of me – maybe 300 lbs! – outdoors, the darkest night, my asshole stretched to almost breaking, feeling all the fur, all the flesh. Then Barry moved.
I felt his cock push more, and more into me, until his groin was flat against my ass, "Joe, oh Joe. I've not felt this in such a long time. And never with a man like you. Hard muscles. All over. Fuck Joe." Barry pulled back out, his cock practically suctioning out my insides – I felt it in my diaphragm! I felt him pop back out of my colon, until his cockhead was just at my anal opening, and I hoped he wouldn't pull all the way out – the head was so big! Then with a groan, he pushed completely back in, one stroke, his full weight on me slamming me down against the blanket, my cock crushed against the blanket and grasses. I think I passed out for a second, 250-300lbs of furry bear on top of me with what seemed to be 11″ completely in my ass. Barry was lying on me as I sort of came to, arms under mine, hand on the back of my neck in a kind of gentle wrestling hold.
He was hunching his hips, expertly sliding in deep-dish fucking lunges, more and more rapidly. My whole body was one long fucktoy now, sensations I'd never had before (or since) completely wrapping around me. Barry was massaging my back muscles and shoulders expertly; huge hands wringing me to pieces as he more and more forcefully fucked my ass, his belly bouncing against me with each lunge. I was reduced to 250lbs of muscle jelly quivering under him. "You ready for some fuck baby?" Barry asked, whispering in my ear. Abruptly he ripped his cock out of me, leaving me gasping, and my ass completely empty – a crazily weird sensation. Barry flipped me over, then on his knees at my feet, lifted my ankles and bent my legs forward. His cock was a fat hairy arc in front of him, tight against his fat belly, and as he scooted forward, he pushed down again. OH!
The head went back in my empty hole, and he rested as second, holding his belly up. I looked down, my own cock sitting in a wet pool of precum, and looked at his wrist-thick veiny meat in my asshole, just not looking real. He pushed my knees towards me, and put my hand behind my knee to hold it. I pulled back, then got my elbows locked to hold myself wide open, and he thrust again, his whole furry body quivering, and every hair on my body stood on end. He pressed his weight forward, and his cock was sliding back into my asshole, and in this position I felt every fraction of an inch. He let his belly drop on my cock, and then with a final thrust, was completely up in me, and I practically felt him pushing against my diaphragm again with his cock. He slapped my chest, and squeezed my pecs again, then worked over my biceps, and triceps as he began small thrusts.
I thought I was going to pass out lightly again, but pinching my nipples kind of revived me, then he fed me four hits of poppers, not letting me stop and I knew we were ready for big-time. He put his hands on my chest, reared up, and slammed the full length of his cock in and out of my ass like a jackhammer. His furry chubby body wiggled and bulged with the force, belly slamming against my cock, smacking sounds filling the night air. I stared at his shadowed, bearded handsome face, then up at the night stars as I felt like I was having an out-of-body experience. I reached up, legs splayed by themselves, and cupped and stroked his hairy tits, rubbing my thumbs on his hard brown nipples. "Joe," he whispered, "Careful. Those are my cum buttons!" I pinched them a tiny bit, and Barry shook his head "no" but then I licked my fingers and rubbed them very lightly, in circles. Barry rolled his eyes back, shuddering, "You're gonna make me shoot like that Joe!"
I pressed in harder, stroking them and Barry finally said, "You hit the button Joe. We've got a countdown Houston!" He expertly continued fucking, long strokes with that big hairy muscle ass into me as he leaned forward, first tickling my lips with his beard, then lips on mine, kissing. A moment later, that was it – he got his arms around my chest, full body on top of mine, slamming his cock like a jackhammer into my ass and kissing me like crazy. I was completely engulfed by his hairy weight, and was in heaven. My cock, grinding against his hairy lubed belly, was beginning to become unbearable, but I couldn't do anything. "Here it comes Joe, fuck you're perfect for me!" Barry gasped, squeezing me harder. His ass started doing power slams into me as he grunted, and yelled out, and pushed up on my chest, belly quivering, and with a final thrust, shaking, I felt a dam bursting full of cum into my ass.
Barry started bellowing out, entire furry body quivering, then reared back, and with his furry paws, grabbed my cock and hand over hand squeezed and jacked me as he continued spewing cum in my ass. It took one touch. I was shaking and shooting my second round all over his hairy belly, "Thatta boy Joe!" Barry grinned, and he continued to thrust tiny jerks into me as I finished. I had a buzz in my ears, not just the insects, and everything got louder and louder, as I felt like I was going to pass out again, when Barry fell onto me, arms around me again, and then rolled back on the blanket so he was on his back, semi-hard cock still up inside me. I looked down, coming to again, and decided it was best just to lie down, curled up in his fur. I don't know how long we both lay there at that point; I think I woke up feeling his cock pop out of my poor abused ass. I was wet – and it was quiet, some sort of dew settling over us, and even in the heat, it was slightly chilly.
Event the night animals had stopped, and we had only stars overhead. I heard a rustle, and nearby an armadillo pawed at some underbrush as a rabbit hopped by. I got up – my asshole aching – and Barry woke, grabbing me again to him, kissing and holding me. We talked, and slowly gathered our mess, and I was happy to see no blood – I was sure I was ripped apart, and looking at his cock, even soft – it was as big as mine was hard. We headed towards the bungalow, and exhausted crawled into the crazy-huge bed together. I couldn't help myself, and began playing with Barry's body – the fur, his big chest, big belly, and though he was sleepy, when I played with his still greasy cock, it popped out hard again. I held it in my hands, squeezing and feeling the shaft, and popped the foreskin back and forth over the wet head as Barry groaned, sleepily passive.
I leaned over, and licked the head, drilling my tongue into the big pisshole. Barry grunted "Gotta sleep Joe," and patted my muscles, but I opened my mouth wide popping the head of his cock in. It lay on my tongue, filling my whole mouth cavity, and I sucked on it gently, tasting all the cum and ass juices still on it. It was wonderful, and I was content to crawl back in the bed just like that, suckling his cock in my mouth, but I was so turned on by his fur, and big body, I pushed further along into my mouth as much as I could, holding the shaft. I noticed that the room was slowly getting light – we had been out asleep for some time! I looked at his cock again in the dim grey-pink dawn light, and put it back in my mouth. I crawled on top of his belly – his cock was sharply curved upwards – and felt his paws stroke my ass and legs, then opening my mouth, pushed forwards. His cockhead pushed against my throat, shutting it as it had last evening.
I realized if I did an "aaah" like a the doctor's office, I could open my throat up a bit more, and pushed forwards. I felt the head of his cock lodge into my throat harder, my jaw completely open and relaxed, and hoping I didn't scrape him with teeth, pushed more. His head stretched my throat, tiny tingles of pain hitting me, but I was so excited – I had my hands, mouth, and throat full of big hairy cock – I pushed forward more. His cock hit some sort of snag, then suddenly popped further in my throat as I slid further over his big belly towards his very hairy crotch. Finally I had a hand's length of cock in my throat, and could reach towards his massively furry balls and feel and pull on them. Barry was groaning, and fingering my asshole again, squeezing my muscles, pushing me forwards, telling me to take more. I put my hands now around his huge ass, and pushed his hips towards my mouth, his cock stretching and filling my throat completely until my face was against his groin.
I couldn't believe it! I was as completely filled in my my mouth and throat as my ass was the night before – Barry was groaning, slapping my ass gently and telling me to face-fuck harder, harder. I bobbed my head – the sensation of his huge cock slithering back out of my throat was unnerving, and I had to pull out until the head was in my mouth to breathe. Barry was still sleepily grunting at me and stroking my legs, and I plunged back onto his cock, and again, after a slight snag, I was able to get him all in my throat. I had to basically find a kind of motion, like push-ups, with his belly against my chest, to fuck my mouth and throat down on his cock, and I was getting dizzy and excited just like when he was fucking me. "Joe, Joe, I can't… nobody has like that." Barry began, "I want your mouth all day every day Joe, work me."
I continued to face fuck on him, my salivary glands like fountains from the extreme stimulation, and I was shaking from the excitement of his bulk under me with that huge cock. I had to cum, cum with his cock in my throat, cum feeling him. I managed to get one foot on the bed, rearing up so I could grab my cock, and as I bounced up and down now on Barry's big body, feeling his furry cockshaft in my mouth, I knew I would cum so fucking fast. I reached back and pinched Barry's nipples gently to see if that would get him going again, and Barry immediately grabbed my wrists, "I'm going to cum like that! And Fast!" I continued to stroke his rock-hard nipples, when his cock started expanding – in my throat. "Fuuuuck Joe! Countdown again!" Barry yelled, and as I jacked off, Barry started shaking and aggressively reached down and shoved my face to his groin, bucking against me.

"CUUUUuummm! Joe! Eat it boy! Eat that fuckjuice, Fucking Cum!" he barked, and a gusher of cum started pumping in my throat, directly into my belly. "Oh, Fuck, Cum, cumfucker, here, go, uh, fuck!" Barry continued incoherently, and pulling my head back until the head of his cock was in my mouth, he paused, and then flexing his hips, another huge gush of hot bitter cum filled my mouth. I was hammering my own cock over his chest, and the moment I tasted him – it was like an erotic hammer hit my balls, and I started jetting cum. Barry, surprised at the cum splashing on him, laughed, then shoved my head back down on his cock, all 11 inches shoveling cum back into my throat into my belly, and he held me there until I was either going to die of asphyxiation, or convulse and drop off his cock.  I grabbed him and started slapping his belly, and he pulled my head off as I gasped, falling on top of his furry body.
He slapped my ass, kissing my legs, and we both lay there gasping for a moment. Next thing I knew, a bell rang outside, Barry still lying with my cum all over him, snoring, and I rolled off, and looked out the curtain. There was a breakfast for two sitting by the clothes, and messy couch, blanket, the entire evening's sex event for the world to see as a golf cart sped off, older guy at the wheel. I kissed Barry, and we had a beautiful breakfast together naked outside, and thought I wanted to attack him a few more times… he did have to get back to work. What I liked was that he was very free to be naked after worrying about his size (what a non-problem) with me that morning… I promised to come back to see him – and I have! I love luxury inns. Especially full-service. My trip was definitely getting more relaxed, but I was unfortunately having gym withdrawl. Where could I go between Round Top, La Grange, Bastrop, and San Antonio?